Complete Rail-Less Racking System for a Variety of Roof Types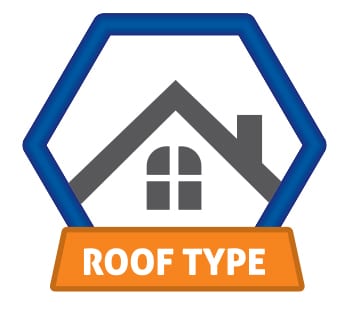 Composition Shingle, Metal, Tile
STREAMLINED INSTALLATION WITHOUT THE NEED FOR RAILS
The RockIt system conforms to UL 2703 and is the industry's premier rail-less PV racking system for composition shingle, tile, and metal pitched rooftops. Designed in conjunction with installers, RockIt quickly & easily installs with a single tool. It features an easy-to-position mount alignment and a top-down leveling system. RockIt is logistically intelligent with no need to ship or transport long rails. Components are available in a black finish that complements both commercial and residential applications.
North-South adjustability
Single tool install
Conforms to UL 2703
Compatible With a Variety of Rooftops
COMPOSITION SHINGLE ROOFS
Combine the RockIt Slide with EcoFasten's patented watertight GF-1 Flashing to attach the RockIt System to composition shingle rooftops. GF-1 is available in mill and black finishes.
FLAT, S & W-SHAPED TILE ROOFS
The RockIt System quickly installs onto most Flat, S, and W-shaped tile roofs without the need to cut or grind tiles. Combine the appropriate Tile Mounting Base and Tile Flashing with the Tile Slide.
CORRUGATED METAL ROOFS
The RockIt System can be installed onto corrugated metal roofs using the SteelDeck Slide, which attaches directly to raised portion of the corrugation with two self-piercing metal screws.
Required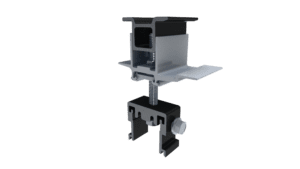 RockIt Mount
Featuring integrated bonding pins, the RockIt Mount connects to any RockIt Slide and can be easily adjusted north and south for fast alignment.
RockIt Coupling
The fast installing RockIt Coupling easily attached to the module frame to bridge the gap between modules.
RockIt Skirt
The sleek black skirt installs first and acts as a guide that allows for the entire system to be installed quickly and in perfect alignment. The aesthetic skirt End Cap doubles as a skirt coupling device. The RockIt Skirt is available in 65″ and 80″ lengths.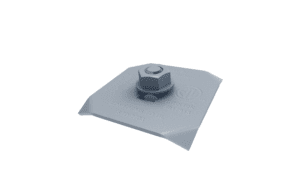 Frame MLPE Mount
The Frame MLPE Mount attaches, mounts, & fully bonds Module Level Power Electronics to the module frame using a single-bolt clip. This accessory can be used with any racking system to attach the Module Level Power Electronics to the module frame.
Choose Your Roof Slide
RockIt Slide
The RockIt Slide combines with EcoFasten's GF-1 Flashing for a fast and watertight installation on composition shingle roofs.
RockIt Tile Slide
Combine the RockIt Tile Slide with the appropriate Tile Mounting Base and Tile Flashing to install the RockIt System to a Flat, S, or W-shaped tile roof.
Steeldeck Slide
Install the RockIt System to a corrugated metal roof using the direct-attach Rockit SteelDeck Slide. The slide features an EPDM rubber base to keep out water.
Choose Your Roof Attachment
GF-1 Flashing
EcoFasten's popular GF-1 Flashing for composition shingle roofs is available in mill and black finishes and features our patented watertight technology. Combine it with the RockIt Slide for a fast and easy installion.
Tile Base
The Tile Mounting system is available in three sizes to match Flat, S, and W-shaped tiles. Install the Tile Base to a rafter and then combine it with the appropriate shaped Tile Flashing and the RockIt Tile Slide to install the RockIt system on to tile roofs.
Tile Flashing
Eliminate the need for cutting or grinding tiles with EcoFasen's replacement Tile Flashing. Combine the flashing profile of your choice with the Tile Mounting Base and RockIt Tile Slide to securely attach the RockIt System majority of tile rooftops.
INSTALLATION MANUAL - SHAKE & SLATE
INSTALLATION MANUAL - METAL SHINGLE
INSTALLATION MANUAL - COMP & TILE
Product Testing

State Certifications